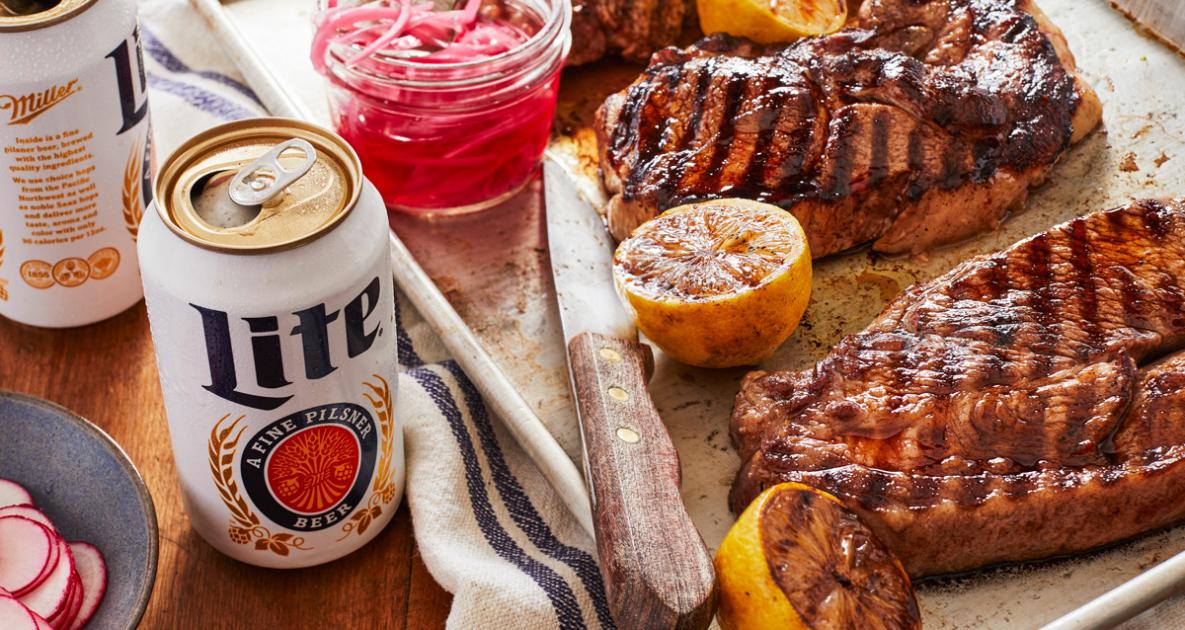 Time
45 minutes, plus time to brine
Ingredients
1 can Miller Lite
¼ cup kosher salt
¼ cup sugar
3½ cups ice water
1 cup orange juice
4- to 5-pound pork shoulder (Boston butt), cut into 1-inch steaks
¼ cup Miller Lite Whole-Grain Mustard
¼ cup vegetable oil, plus more for grilling
2 tablespoons honey
3 lemons, halved
Recipe preparation
1. Combine the beer, salt, and sugar in a saucepan and cook over low heat just until the sugar and salt have dissolved, approximately 3 to 5 minutes. Remove from the heat and combine with the ice water and orange juice to make a brine.
2. Place the pork steaks in a large bowl or plastic bag and pour the brine over so they're completely submerged. Cover with plastic wrap and refrigerate for at least 2 hours, preferably overnight.
3. When you're ready to cook, prepare the grill with a medium-low flame.
4. Combine the Miller Lite Whole-Grain Mustard, oil, and honey in a bowl. Remove the pork steaks from the brine and pat them dry, then rub a couple teaspoons of the mixture over each side.
5. Grill the steaks with the lid closed until they're caramelized with some deep browning along the edges, approximately 12 to 14 minutes. Flip, close the lid again, and cook for another 10 minutes or so until the pork is completely cooked.
6. Pull the steaks off the heat and let them rest for about 5 minutes. Meanwhile, bring your grill up to a high flame, brush a little more oil on the flat face of each lemon half, and grill them for 2 to 3 minutes, just until they're charred.
7. Thinly slice the steaks against the grain and squeeze half of a lemon over each one.